About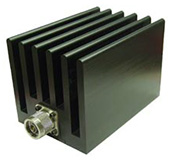 Thank you for your interest in Microwave Devices' line of RF and Microwave components and connectors. Since incorporating in 1959, Microwave Devices has designed and manufactured a wide variety of products for commercial and military customers. Our products include a broad range of RF and Microwave components, connectors, adapters, and measurement equipment.

Recently, new component product lines have been introduced to better satisfy today's demanding requirements. These products include improved and expanded lines of attenuators and terminations (loads), combline cavity filters, and directional couplers. In addition, we're pleased to say that our ferrite isolator and circulator line is being expanded to satisfy ever-changing market demands.

Rounding out our product offerings are a wide range of waveguide components, connectors, adapters, cable assemblies, RF power dividers and combiners, as well as measurement and monitoring equipment.
Supplier Directory Categories
Microwave Devices, Inc. is listed in these categories: