About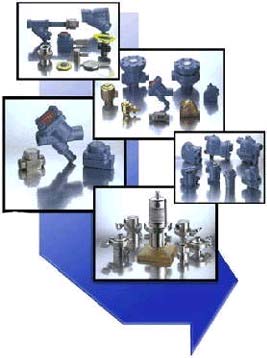 Nicholson Steam Trap was founded in 1883 by W. H. Nicholson, Sr. He, along with his sons William, George and Samuel produced a variety of steam specialty products at their facility in Wilkes-Barre, Pennsylvania. Trap manufacturing began early in the twentieth century with the precursor to their current weight operated series traps. In the 1930s, a wide range of bellows-activated thermostatic traps were developed, the descendants of which are still built today in a modern facility at Walden, New York which manufactures a wide range of products from safety valves to control valves and, of course, steam traps.
The Nicholson Steam Trap product line is focused on the industrial marketplace and features traps ranging from highly polished stainless steel sanitary traps to innovative free float F&T traps. Nicholson thermostatic traps are known throughout the industry for their value and durability. Equally respected in naval yards are Nicholson orifice traps, offering long life and easy maintenance. A recent product introduction is the Condensate Commander Pump; a steam powered pump available in several sizes including prefabricated skid mounted systems. These continue the Nicholson tradition of providing high performance, value-oriented products to the industrial marketplace.
Nicholson Steam Trap, located in Walden, New York, has been producing a full line of steam specialties including steam traps, condensate pumps, sanitary steam traps, air traps and drain orifice unions since 1883. Nicholson Steam Trap is a Division of Spence Engineering Company, Inc.
Supplier Directory Categories
Nicholson Steam Trap, Inc. is listed in these categories: