About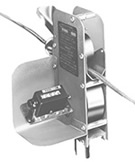 Founded in 1946, Olympic is the recognized source for wire and cordage measuring devices since establishing compliance with National Bureau of Standards specifications for such equipment in 1969. We helped write the national specifications for the Wire and Cordage Meters. By adhering with NIST specifications, our Meters are assured acceptance in all 50 states. Olympic Meters are also fully in compliance in Canada.

All Olympic Meters can be furnished for reading in Feet-Inches or Metric by selection of the correct counter. No other adjustments or modifications are necessary. Olympic Meters and Reeling equipment are easy and convenient to operate, uses minimal space to occupy, and requires minimum labor to operate. Distributors are located throughout the United States and Canada assuring easy access to stock.

Olympic Length Measurers possess low friction, positive control guiding components which assure the straight-line contact with the measuring wheel so important to measurer accuracy. Digital Counters rated at 1,000'/ min. (300M/min.) are housed in sturdy, dust-tight cases. Convenient release handles for quick and easy loading. Gray enamel finish.
Supplier Directory Categories
Olympic Instruments, Inc. is listed in these categories: