About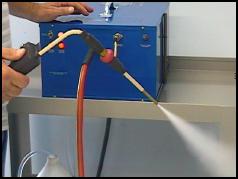 Mini-Max Waste Management System™
This system is used to clean such items as electronics, weapons, fiber optics, food service and medical products, etc., in complete safety to the user, environment, and the item being serviced. It contains waste to solid entrapment, and eliminates the waste water stream!!!
Steam, the combination of moisture, heat and pressure provide the means for immediate removal of contaminants from a given surface, cleaning it thoroughly, coupled with immediate spotless drying.

By activating the hand or foot operated switches, the operator activates our special pump which injects a metered amount of liquid into the patented Mini - Max Cleaner® chamber. This fluid converts into high pressure vaporized steam instantly, discharging forcibly through the nozzle or wand assembly outside the cabinet.
MINI-MAX CLEANER® is a patented process which instantly converts clean water to high pressure steam vapor on demand and is easily controllable by the operator. ARMA-SOL® rust inhibitor is added when required for corrosion control.
A Few Facts:

Since 1980, a track record of safe, reliable performance
MINI-MAX Cleaners® are never obsolete and can be upgraded to today's state of the art pressure and improved longevity

We Do Not Have:

Solvents or alternatives
Waste water streams
Minimal costs for waste disposal
High power consumption needs
EPCRA reporting, etc.

We Do Have:

Portable and flexible equipment
Minimal safety equipment requirements
Equipment that is practically maintenance-free
Testimonials and Awards:
Foresite, Inc.
Amarillo Police Department
Richmond Defense Supply Center Awards
John Muir Hospital
Partial List of Hospital Customers
Kings Bay Sub Base
Naval Air Warfare Center
Mahler's Bakery
Navy Environmental Leadership Program
Supplier Directory Categories
PDQ Precision, Inc. is listed in these categories: