About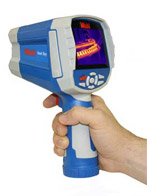 America's first thermometer company originated in Cincinnati, OH in 1836. Since that time, Palmer Instruments has steadily evolved through product development geared exclusively towards industrial supply and process measurement.
From development of the "Foster Cup" thermometer in 1880, through the radical improvement of thermometer legibility by the patented "Red Reading Mercury" tube in 1929, to today's temperature and pressure measurement innovations, Palmer has always maintained the "first" tradition by bringing instrument value, service and quality to a broad range of industries.
Operating from a new facility in Asheville, NC since 1987, Palmer has developed special-application products such as Dual-Sensing and "Slip-fit" thermometers, and pioneered new industry services such as free lifetime recalibration on pressure gauges. With the recent affiliation with Wahl Instruments, and resulting consolidation of manufacturing in Asheville, Palmer Instruments looks first to the future.
Who We Are
We are your single best source for a wide variety of temperature, pressure, humidity, test and calibration instruments, offering many years of experience and leadership in manufacturing quality instruments. We have developed many unique features and patents which have been incorporated into our product line over the years bringing you an extensive line of process measurement, test and calibration instrumentation.
Our Reputation


Since 1836 we have carried on a tradition of over 170 years of continued innovation. Palmer was the first thermometer company in the United States, and invented the "Red Reading" Mercury Thermometer. Wahl developed the first portable digital platinum-RTD thermometer system and the first miniature temperature recording label.
The Palmer Wahl Advantage
Because we are manufacturers, we control the quality and configuration of our instruments. We provide instruments with customer specified configurations and required calibration. We maintain manufacturing and quality assurance systems to ensure every component is assembled and figured properly. The result: Quality instruments ready to use upon receipt, with "Total Customer Satisfaction". Palmer Wahl is ISO 9001:2008 certified.

Supplier Directory Categories
Palmer Wahl Instrumentation Group is listed in these categories: