About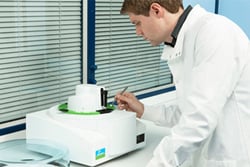 Backed by an outstanding team of 7,600 employees and located in over 150 countries across the world, PerkinElmer is a global leader focused on improving human and environmental health, for the better. We provide our customers with critical knowledge, expertise and innovative detection, imaging, software, and services solutions so that they can make better decisions for better outcomes. At PerkinElmer, we make a difference everyday - helping scientists, clinicians and governments detect earlier and more accurately to improve the health and safety of people and the environment. Our solutions range from enabling the discovery of more effective diagnostics and therapies, to making sure that the food we eat, the water we drink, and our environment are safe from contaminants.
PerkinElmer conducts business in nearly every country across the globe. In addition to providing extensive knowledge and expertise and leading capabilities, we are committed to delivering a consistent customer experience around the globe, exemplifying quality, personable, knowledgeable and responsive service and support.
We provide complete lab solutions - everything you need to set up, run and automate a lab to suit your specifications as well as the services to keep it running productively. We will talk with you, scientist to scientist, engineer to engineer. Then we will help you customize a solution, where necessary, and upgrade or expand your lab's capabilities when you are ready.
We also supply a complete suite of components for your high performance and high volume needs. From detection to illumination and imaging, we have the product you need to go to market faster, and with better performance.
Supplier Directory Categories
PerkinElmer, Inc. is listed in these categories: