About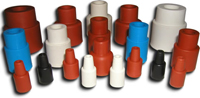 The Plasticoid Company has manufactured high-quality rubber components from its facility in Elkton, Maryland since 1946. They offer rubber products servicing the Medical, Industrial, Pharmaceutical and Diagnostic Industries.

Plasticoid specializes in Compression, Transfer and Injection Molding of rubber products. They produce millions of parts each week. With their experience in research, development and manufacturing, Plasticoid is second to none in quality, consistency and innovation. Their capabilities include: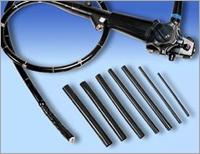 Quotations -- Plasticoid provides their customers fast responses on quotes, which could include tooling for single-cavity or multi-cavity prototype and production molds as well as piece price based on projected annual usage.

Mold and Product Design -- Plasticoid's Engineering Department has many years of experience in helping their customers design their products to fulfill functional requirements while providing the lowest manufacturing costs possible. Utilizing a network of mold builders, they are able to match the distinctive mold characteristics with the best machinists possible.

Compound Formulation -- From Plasticoid's fully-equipped laboratories, they develop state-of-the-art compounds in Natural Rubber, Butyl, Silicone, Polyisoprene, EPDM and Thermoplastic Elastomers including a formulation for the new Latex-Free requirements. They take pain-staking efforts to be sure the formulation meets their customers' individual requirements.

Prototyping -- They recommend that new products go through a prototype stage so that final adjustments in product design, mold design and compound formulation can be made. Plasticoid realizes that time is important so they proceed through the stage as rapidly as possible.

Manufacturing -- Their manufacturing is done in compliance with GMP. Their molding presses are microprocessor-controlled to ensure consistent production. Plasticoid has over 50 years experience in molding rubber products.

Quality Control -- Plasticoid has complete testing and quality-assurance facilities. They maintain test results and retain samples for a minimum of five years. As evidenced by their many years of supplying critcial Elastomer products to major companies in the Medical, Pharmaceutical and Diagnostic Industries, they consistently deliver high-quality products.

During their 50-year history, they have developed and manufactured many products whose life-cycle has ended. While the life-cycle has ended, the mold life-cycle has not. And many times these products can be used for other purposes and can often provide a low entry cost method for new applications. Please contact Plasticoid so that they may search their mold inventory.

Supplier Directory Categories
Plasticoid Company is listed in these categories: