About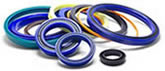 Founded in 1976, Pressure Seals, Inc. has grown to become an award-winning, World-Class distributor of O-rings, gaskets, Teflon® seals, packings and high-performance machined or molded polymers. Our customers range from high-tech startups to Fortune 500 giants. When you choose Pressure Seals Inc., you choose from thousands of O-rings, special molded seals and high-performance polymers!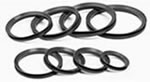 PSI distributes a number of compounds that are suitable for use in medical applications requiring body or body fluid contact. These materials have been tested by independent laboratories or our material suppliers to assess their ability to meet requirements as defined by several standards organizations.
Pressure Seals' proprietary molding process, state of the art deflashing equipment and inhouse tooling facility allow us to accurately produce quality molded O-Rings and seals smaller than .1" ( 2.5 mm). At present our smallest ORing has a major diameter of .030", with a cross section and ID of .010" each. Our Micro-Miniature seals are inspected under magnification and like all PSI seals — 100% are visually inspected for flash and flaws.
Why Buy Here?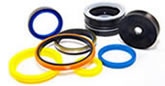 Features:
Huge inventory in stock at our own warehouse; Multi-source capability; ISO 9001-2008 compliant; Free samples (PPAP); Broad experience and industry contacts; Trained field technical sales reps; Custom color coding, inspection and packaging; Accurate counts and packaging; Concise, easy-to-understand paperwork; Corporate commitment to continuous improvement; Minimal bureaucracy, maximum documentation.
Benefits:
Quick "JIT" order expediting and attention to crisis orders; Prompt location and supply of custom, hard-to-find and new products; Maximum quality control and product reliability; Valuable help in prototyping and testing stages; Maximum problem-solving, engineering /technical support; Close, caring relationships, on-the-spot assistance; Ability to meet custom requirements; Maximum inventory accuracy and production flow; Maximum vendor excellence and contribution to "team success"
Supplier Directory Categories
Pressure Seals, Inc. is listed in these categories: