About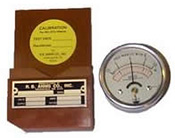 R.B. Annis Instruments, Inc. builds the finest precision demagnetizing and testing equipment available. Annis designs demonstrate a level of sophisticated simplicity that has earned them worldwide renown, and it is an unparalleled understanding of electro/magnetic design fundamentals which allows Annis engineers to build customized solutions for virtually every technical obstacle.

The creative spirit of Annis Instruments grew from the talents of its founder, Robert B. Annis. His modest, respected staff of engineers and manufacturers has grown to share his skills (some through 45+ years of service), and proudly maintain the Annis name. Today, Annis Instruments remains a small, hands-on operation — an assurance of remarkable consistency and quality.

Annis Instruments produces a catalog of 1000+ products, but to this day specializes in custom solutions in demagnetizing.
Supplier Directory Categories
R. B. Annis Instruments, Inc. is listed in these categories: