About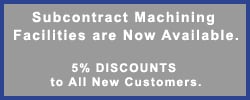 Raloid Tool Company, Inc. has been in business since 1945 producing tooling equipment for many diverse applications, including all aspects of friction materials manufacturing. A major aspect of their business involves the custom design and building of precision machine products for the braking industry. They have manufactured equipment, tooling and components for such diverse applications as:
Press systems for ferrite, rubber and friction products
Finishing systems for friction products
Automated systems for respirators
Sweat bands
Breast pads and ear plugs
An array of equipment and tooling components for use in aircraft brakes and related systems

Raloid's experience encompasses all facets of disc brake, drum (segment), block, off highway, and special application friction manufacturing as well as aircraft brake manufacturing in tooling, equipment and gaging and fixturing requirements. They also offers through its Special Equipment Operations Group, complete equipment subcontract engineering, fabrication, testing and installation if required.

Raloid Tool Company maintains within their facility complete electrical, hydraulic and mechanical assembly through their testing areas. They offer complete equipment lines designed for friction materials applications. Raloid will quote complete turn key systems or partial components. They also maintain a large subcontractor base for any special process or procedures that may be required. If you need to outsource engineering requirements, Raloid Tool would be happy to provide you with a quote.

Raloid has the engineering capability for tooling, equipment, and gaging requirements, however, they can also quote from your design and engineering specifications. They are known for their expertise in building equipment to the customer's specifications. They have the capability for design manufacturing on OEM, OEM Service and Aftermarket applications, and also for single part to semi and full production requirements.

Raloid Tool offers full capabilities; computerized operations and technologically equipped facilities help them manufacture even the most complex orders quickly and more economically. Their advanced resources allow for easy flow production capability and processing, which gives them better quality control over products.



Supplier Directory Categories
Raloid Tool Company, Inc. is listed in these categories: