About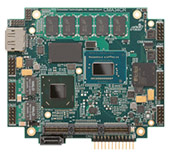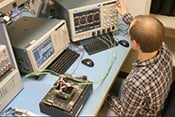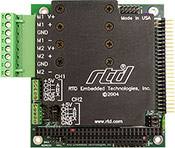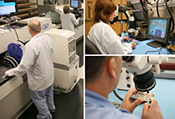 Incorporated in 1985, RTD Embedded Technologies, Inc. — a co-founder of the PC/104 Consortium and an AS9100 and ISO 9001 certified company — specializes in the research, design, and manufacturing of highly reliable, innovative, rugged, and modular computer boards and systems with emphasis on the PC/104, PC/104-Plus, PCI-104, PCI/104-Express, PCIe/104, desktop, and 19-inch rack specifications. RTD's products have been subject to extreme shock and vibration, humidity, and extreme temperatures in the harshest conditions of the oceans, deserts, arctic poles, high altitudes, and space by companies in the commercial, industrial, military, and aerospace markets.
RTD's product offering is the broadest in the industry, guaranteeing system integrity and minimal debugging. These products address CPU, digital signal processing, intelligent process control, data acquisition and processing, adaptive signal processing, video capture, telematics, wireless, networking, communication, field bus, power supply, and UPS technologies. In addition, RTD specializes in rugged, modular, and universal system solutions (IDAN, HiDAN, and HiDANplus) which are available in standard and custom designs for all RTD products as well as third party products. RTD's vast experience and knowledge base of computer technologies allows quick and efficient solutions to customer requirements. With in-house software expertise, add-in drivers, developed software environments, and example programs, RTD provides a clear, one-stop, fast development experience with long-lasting support for the embedded customer.
RTD's Quality Management System is AS9100 and ISO9001 certified. This system is designed to facilitate the highest quality with a zero-defect philosophy, enhance customer satisfaction, and promote continuous improvement initiatives in the areas of training, design control, contract review, purchasing, receiving, production, inspection, test, delivery, and post delivery activities. Using Material Resource Planning Software as well as custom, RTD plans, tracks, and executes all aspects of the design, procurement, and production process to ensure full traceability for all of RTD's delivered products.
But RTD's philosophy has always been that a true quality product will never come from just an outstanding quality, design and manufacturing process. True quality products must have quality designed into them from their inception. RTD's expert knowledge and know-how with years of engineering and field experience in a variety of software, electrical, mechanical, system integrating, and quality disciplines provides the necessary resources to not only follow a project from start to integration, but to follow it through its entire life cycle.
RTD's high-performance products are Designed and Manufactured in the USA at our facilities in State College, PA. With cutting-edge design and testing tools, state-of-the-art precision manufacturing, inspection, and testing equipment, RTD proves that superior products can be, and still are produced here in America.
Supplier Directory Categories
RTD Embedded Technologies, Inc. is listed in these categories: