About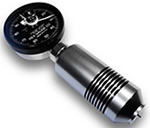 Rex Gauge has been specializing in quality durometers for over 70 years. We pride ourselves in the fact that Rex durometers are easy and convenient to use as well as durable and extremely accurate. Our personnel are truly professionals in their trade, as is evident in the fine workmanship and quality that go into each gauge — from the first calibration to the final approval before delivery to the customer.

Due to increased worldwide sales, Rex Gauge Co. has recently expanded its production capacity to a 56,000 square foot, 7 acre facility. With our new building, Rex will offer more quality products and even better service. Even though we're bigger, we still offer the same old-fashioned, same day service which our customers have appreciated for over 60 years. Plus, our expertise allows us to customize any Rex instrument to meet your company's specific measurement need. All Rex components are manufactured in the USA.

Rex Durometers are known World-Wide for their quality, dependability and accuracy. Except where noted, all gauges comply with ASTM D2240. All are in stock and ready for immediate delivery. Custom designed gauges and operating stands, along with many accessories are available. Rex Gauge Durometers are available in ASTM D 2240 durometer types (Shore hardness): A, B, C, D, E, DO, O, OO, OOO, OOO-S, M, R, as well as JIS, DIN ISO, ASKER and other custom durometer scales.
Supplier Directory Categories