About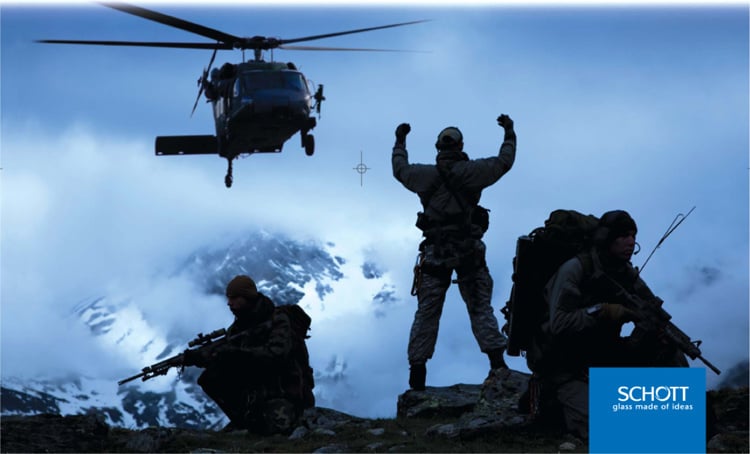 SCHOTT stronger, SCHOTT safer, SCHOTT smarter.
SCHOTT component technologies lead the way in armor, night vision, electronic packaging and optics.
SCHOTT supplies high tech materials and components for use in security and defense applications in North America and Europe, particularly in the areas of fiber optics, optical glass, hermetic glass-to-metal seals and glass-ceramics. SCHOTT has been serving the civilian market as a recognized leader in specialized glass solutions for more than 120 years. For this reason, they are uniquely positioned to provide customers in the security and defense industries with the highest quality products that address their special challenges.
SCHOTT Advanced Materials not only provides anti-reflective glass for airport control towers, but also laser glass for one of the world's most powerful lasers; lightweight ZERODUR® mirror blanks, which are used in telescopes; aspheric lenses for rifle sights and binoculars; night vision filters; coated and glass filters for cockpit displays, lighting and laser protection; the highest quality optical glass and fused silica for precision optical components, as well as various other optical components.
While two-thirds of all modern air bag units rely on parts from SCHOTT Electronic Packaging, all Eurofighter planes are equipped with sealing components that originate from the same technological know-how. As a world leading hermetic packaging solutions provider, they offer standardized as well as custom developed packages e.g. transistor outlines (TO) and hybrid packages for electronic components such as sensors, laser diodes, radar systems, optical receivers and power packages.
SCHOTT fiber optics technology makes endoscopic surgery possible, yet also plays an important role in remote viewing in military applications. Inside a tank, the crew can safely view what is outside. SCHOTT night vision components make this possible even when it is dark.
For 40 years SCHOTT has been driving the development of glass-ceramics. Now, SCHOTT Protection has redesigned the material for use in stronger and lighter armor for multi-purpose protection applications. SCHOTT products are designed to serve as the heart pieces of their customers' products in order to improve their performances.

Advanced Materials
and Components
Electronic Packaging
Fiber Optics
Protection
About SCHOTT
SCHOTT is a technology-driven, international group that sees its core purpose as the lasting improvement of living and working conditions through special materials and high-tech solutions. Its main areas of focus are the household appliance industry, pharmaceutical packaging, optics and opto-electronics, information technology, consumer electronics, lighting, automotive engineering, solar energy, and defense.
SCHOTT has a presence in close proximity to its customers through highly efficient production and sales companies in all of its major markets. The company has approximately 17,000 employees producing worldwide sales of approximately $3 billion. In North America, SCHOTT's holding company SCHOTT Corporation and its operating subsidiary SCHOTT North America, Inc. and their affiliates employ about 2,500 people in 13 production operations with 4 sales offices.
Supplier Directory Categories
SCHOTT North America, Inc. - Defense is listed in these categories: