About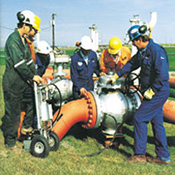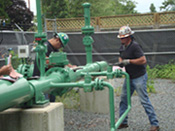 Sealweld Corporation was created in 1969 in response to industry demand for superior synthetic valve sealant compounds. Our chemists analyzed the many products currently available at that time and designed compounds that would perform better over the broadest possible range of service conditions and provide the longest maintenance interval. The introduction of Sealweld products eliminated the need for pipelines to warehouse large inventories of different types of sealants and the headache of ensuring the correct sealant was used in a specific valve.
Our ability to manufacture high quality products consistently enables our technicians to apply a scientific and systematic approach to using the products for problem solving. The Valve Care Products we now offer are the result of our over forty years experience of discovering practical solutions that really work in all types and makes of valves.
Experience has proven that periodic maintenance will make valves operate easier and seal properly. A small amount of the correct lubricant into the body or seat rings, fresh grease into the stem bearings, checking the stem packing and replenishing as necessary will add years, even decades to the service life of the valve.
Sealweld products have been developed over almost forty years of practicing on-line valve maintenance. We strive to make the valve technicians job more productive through the development of these effective products. We are constantly upgrading our sealant delivery systems by improving our pumps and adapters. Just as fuels such as gasoline have evolved over the years, so must our lubricant/sealants and delivery systems. New products are constantly being developed to meet the demanding needs of pipelines around the world.
Supplier Directory Categories
Sealweld Corporation (2003), Inc. is listed in these categories: