About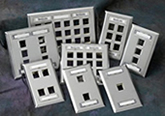 We here at Semtron have the ability to customize your ideas into a solution. With over 80,000 part numbers we can offer custom plates within 3-4 business days with no minimum purchase or drop ship penalties. With our experience in the industry we have been in business since 1980. Semtron is also capable of Silk Screening, Laser Engraving, and even Custom Labeling. Contact us today and let us show you why we deserve your business!
Our sales team helps you to find solutions that will exceed your customers expectations. Wall plates, junction panels and custom designed metal products are our specialty. If you can dream it up, we can build it for you! Our designers know the industry and have developed over 80,000 products in response to customer needs. Use our free design service to design a product that will exceed your expectations.
Our skilled production team builds quality products that stand up over time. Each order is carefully assembled and packaged to ensure you receive your order in perfect condition. Our dedicated stamping plant has the equipment necessary to produce quality products quickly. Laser engraving and screen printing are available labeling solutions.
Supplier Directory Categories
Semtron, Inc. is listed in these categories: