About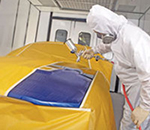 Sharpe, a Graco company, manufactures and sells paint spraying equipment and accessories for the professional automotive refinisher. In 2003, Sharpe joined forces with Graco Inc, a world leader in fluid handling systems and components. Graco's investment in Sharpe Manufacturing has meant the introduction of products that offer uncompromising performance, quality, reliability and a competitive edge.

The talented and dedicated engineers in Minneapolis, as well as the highly skilled manufacturing team in Sioux Falls, South Dakota, stand proud behind each of the products they design and produce. Sharpe continues to seek out innovative solutions for the diverse, global automotive refinish market and its combined distribution network ensures you'll get the equipment you need when you need it.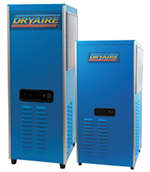 Discover the versatility in performance and quality that Sharpe guns and accessories have to offer. Whether you are a professional, amateur painter, weekend warrior or serious do-it-yourselfer, Sharpe manufactures a complete line of paint spray guns that cover a wide variety of application needs. From our newest and most advanced RAZOR Spray Guns to our Finex value line, Sharpe has a gun for your automotive finish application.
Looking for the assurance of clean dry air for your shop? Look no further than Sharpe's air drying systems that refrigerate air to remove oil, air line particles and humidity from you air supply so that you can paint with confidence.
Get big painting jobs done in less time with Sharpe's 2.5 Gallon Pressure System for HVLP, Compliant and Conventional painting. Because of increased capacity, it handles almost any job with professional results every time.
Sharpe also manufactures a complete line of air adjusting valves, regulators, in-line filters and coalescers and air control units, as well as a complete line of accessories to maximize the performance of your paint system. Whether you need spray cups, hoses and connectors, in-line filters, gun holders or gun maintenance, Sharpe has the tool to keep you up and spraying!
Supplier Directory Categories
Sharpe Manufacturing Company is listed in these categories: