About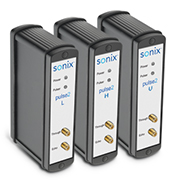 Since 1986, Sonix has pioneered many of the breakthroughs in image accuracy and process productivity that have helped wafer and chip manufacturers literally transform the world. Where others have failed, we have consistently found the right answers to very difficult problems. Today, Sonix acoustic scanning microscopes are used by leading manufacturers worldwide to perform nondestructive inspection of bonded wafers and packaged semiconductors, from the development lab to the production floor. These industry-leading systems deliver the high-resolution images and advanced diagnostic tools that semiconductor designers and fabricators need to verify reliability, qualify new designs, monitor production, pinpoint device failures and improve process control. Technology innovation and leadership are at our core. We make substantial R&D investments, discovering what the future will require and developing novel solutions to meet evolving market demands. We collaborate with our customers to address today's needs and tomorrow's innovations as a team. Clearer diagnostic imaging, greater analytic control, faster throughput and more responsive service and support — that's the Sonix difference.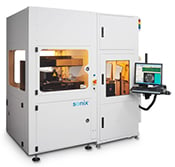 Wafer Inspection Solutions
Sonix provides manual and automated wafer inspection and metrology systems for wafers ranging from 100mm to 300mm, with extensive analysis capabilities at both the wafer and device level. These industry-leading automated wafer inspection systems are used by the world's top manufacturers to ensure quality from development through production. Sonix offers a complete line of nondestructive testing (NDT) solutions optimized for finding defects and improving process control in bonded wafers including MEMS, CMOS image sensors, memory, LED, TSV(Through Silicon Via), and other demanding applications. Our AutoWafer™ and AutoWafer Pro™ systems offer full-featured wafer inspection in the development environment or on the manufacturing line, at full production speeds. Our advanced transducers and auto-analysis tools fine-tune the wafer inspection process to achieve the precise results you're looking for. With fully automated handling, 200mm and 300mm SECS/GEM compliance, and the options and expertise to meet your specific application requirements, Sonix is the only partner you need for semiconductor wafer quality, productivity and yield.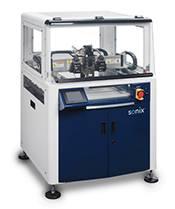 Package Inspection Applications
Image quality. Speed. Uptime. They're all crucial. Getting all three at the same time in a nondestructive testing (NDT) solution for package inspection is the challenge. It takes continuous innovation, advancing the state of the art to keep pace with the semiconductor industry's own exponential progress. Sonix has been the innovation leader since 1986. Today, the ECHO line of scanning acoustic microscopes sets the standard for package inspection speed and image quality, to help you keep pace with new packaging materials and difficult form factors. The ECHO platform will remain at the forefront as we continue to add features and enhance performance for years to come. Choose our ECHO scanning acoustic microscope for package inspection of stacked dies, complex flip chips and more traditional plastic packages. ECHO VS adds industry-leading features for the clearest imaging of Cu pillars, molded flip chip (MUF), CSP, MCM, stacked die, hybrids, and other advanced package inspection applications. The ECHO Pro adds fully automated handling for 100% package inspection in high-volume production environments. Sonix is ISO 9001/2008 Certified. All of our tools are Semi S2/S8 certified.
Supplier Directory Categories
Sonix, Inc. is listed in these categories: