About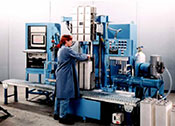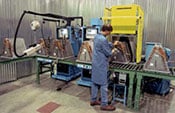 For more than 25 years, Vacuum Technology Incorporated has focused on developing practical, cost-effective, and custom-tailored solutions for our customers and industrial vacuum applications. VTI Vacuum Technology has earned its reputation for technical expertise and manufacturing responsiveness for our easy-to-use, serviceable, and reliable hardware.

VTI Systems Technology includes Leak Detection Processes, Vacuum Processes, Fabrication, Machine Integration, and Automation. Our company technology extends into a diversity of applications in leading industries: Aerospace; Automotive; Chemical; HVAC Production; Medical; Nuclear Plants; Semiconductor Production; Vacuum Equipment; Vacuum Furnaces.

VTI's advanced leak testing technology has been configured with a wide range of control: from simple manual control to fully integrated industrial process automation. Within our leak testing equipment itself, a variety of associated precision measurement functions can be selectively configured to your specific process function needs. Leveraged economic payback to you is optimized in our system designs.
Supplier Directory Categories
Vacuum Technology, Inc. is listed in these categories: