About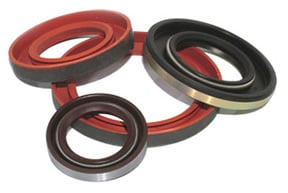 VanSeal is a leading designer and manufacturer of molded radial lip and hydraulic elastomer seals and custom rubber products for a wide variety of applications in the automotive, industrial, fluid power, off-road, appliance, power generation, marine, medical, and aerospace industries. VanSeal specializes as a supplier to original equipment manufacturers around the corner and around the globe, with almost half of annual sales exported outside the U.S.
Why do OEM's trust VanSeal to supply critical components for their rotating equipment and other applications? VanSeal's facility in Vandalia, IL has been molding seals and custom rubber products continuously since 1956 under several different and well-known brand names. Expert engineering has been the cornerstone of this long tradition of designing and manufacturing reliable sealing solutions and the VanSeal engineering team averages 20+ years of experience. Look for the most difficult applications in high pressure seals, aerospace, and rugged off-road applications and you will find VanSeal products. Designed to solve problems and providing years of reliable performance, their customers use VanSeal parts when the application has to work. New and innovative solutions, experience you can trust.
Need more proof? VanSeal is a leading provider of seals and custom rubber products to aerospace and defense customers, in applications where 99% on spec quality and performance just isn't good enough. Their parts are on the C-5 Galaxy, the C-130 Hercules, the CH-53, the UH-60, the Bradley Fighting Vehicle and a host of other defense and aerospace platforms. Check their web site (insert hyperlink under web site) and review VanSeal's extensive list of 5330-00 and 5330-01 National Stock Numbers for Aerospace and Defense applications.
It does not begin and end with the manufacturing of quality sealing products either. VanSeal is your partner for a wide variety of custom and engineered shapes molded in a wide variety of configurations and materials. Plastics? They have them- literally millions of pieces of engineered and commodity plastics are molded every year. Need a custom rubber component to make your application work? Common rubber configurations like grommets, bellows and tubes are molded every day for customers worldwide. Need something else? TPE and flexible PVC's fit the middle ground, giving VanSeal offerings that run from thermoset rubber to highly engineered thermoplastics and everything in between.
The company's award-winning design engineering team takes sealing technology to new innovative heights in efficiency. No matter how simple or complex, large or small, VanSeal brings you an immediate solution that is reliably engineered to your specific application. On time, on spec, on budget, and on performance, VanSeal is your OEM sealing and custom rubber solutions partner.
Six Sigma Black Belts on staff drive performance best practices and quality assurance.
TS 16949 certified and ISO 14001 compliant
Broad experience with special materials: FDA, NSF 61, Nuclear Service, and Biodiesel resistant rubber formulations as well as various UL approved compounds
DFARS 252.225-7014 Alt 1 Compliant Seals
State of the art quality and process controls to include their very high speed, seven camera vision system
Rapid prototyping of many rubber configurations

Compression, Transfer & Injection Rubber Molding
Special solutions products designed for your application, such as hydraulic pumps & motors, fractional horsepower pumps, ball screw seals, and others
Rubber to metal bonding in all volumes
Automated assembly and related capabilities to include cryogenic deflashing, precision trimming, grease packing, slitting and many others
Supplier Directory Categories
VanSeal is also listed in these categories: