About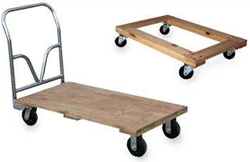 Vestil Manufacturing Corp. is an industry leader in the manufacturing and distributing of materials handling equipment, providing a complete product range at competitive pricing. They stand behind their products with outstanding people and the ability and willingness to respond to various challenges brought forth by customers both internal and external, realizing their importance and identifying their needs. Vestil delivers value to their customers by inventing new products which increase productivity, improve workplace ergonomics and decrease worker injury. Their employees strive to work together and take pride and ownership in the products they build. They extend this philosophy to their suppliers, helping them to provide superior materials at a reduced cost, without sacrificing quality.
Vestil Manufacturing Corporation offers a wide variety of dock equipment, ergonomic solutions, drum handling equipment, material handling equipment and much more to help fit your customers' applications. They supply an extensive product line featuring over 5,000 different items, many of which are in stock and ready for immediate shipment. Competitive discounts and quality products provide outstanding pricing and customer satisfaction. They presently have over 250 employees and 500,000 square feet of warehouse and manufacturing space in order to efficiently provide a broad product line to their customers.
Vestil Strengths
Continual product line improvement and new product development - They are aggressively improving and expanding their product lines daily.
Diverse product line - No one single company competes directly (product for product) with them, or has as diverse a product line.
Factory stock quick-ship program - They have expanded facilities and added storage space in order to keep the most popular products in stock for shipment in 48 hours or less.
Thin mark-up strategy on imported products - Their strategy is to offer their line of imported products at very competitive prices for your long-term business. The products that they import are produced, tested and packaged according to their terms and conditions.
Flat management profile - Easier to react quickly and effectively to situations. The president of the company is active in daily activities of the business. Vestil is family-owned (non-union) and 100% debt-free.
Large experienced engineering staff - Excellent for doing special product designs and features. They are very competitive and expeditious when it comes to doing specials.
Central Mid-West shipping point - Their factories and warehouses are located in northeastern Indiana, which is a central location for shipping to the industrial sectors of the United States.
Supplier Directory Categories
Vestil Manufacturing Company is listed in these categories: