About

WAGO blazes the trail for future technologies. Again and again they have developed new spring pressure termination products that have become the standards for industry on the world market. Since 1951, 50+ billion units have been installed, leading the way for other WAGO innovations:
PUSH WIRE®: To wire, simply push solid or stranded conductors in…done! PUSH WIRE® tool-free, twist-free terminations have changed junction box wring.
CAGE CLAMP®: Encloses conductors in a stainless steel "cage" for fast, easy and maintenance-free terminations. This revolutionized industrial terminations.
WAGO-I/O-SYSTEM: The first fieldbus-independent modular I/O system replaced extensive machine-to-PLC wiring for distributed inputs and outputs. This changed industrial networking and automation.
Each innovation has made industry safer. Each innovation has made industry more productive. Each innovation has become an industry standard.
Safety and Reliability Spring Forward
CAGE CLAMP® and PUSH WIRE® terminations shifted the industry away from maintenance-intensive screw terminations. WAGO focused on providing termination technology that accounts for vibrations, temperature cycling and installation ease. For the last 60 years, installers worldwide have simply asked for "WAGO terminals" when requesting a simple and reliable PUSH WIRE® connector.
One Family Fits All:

Seeing a need for CAGE CLAMP® strength and performance in the most compact applications, WAGO developed CAGE CLAMP® COMPACT and CAGE CLAMP®S. Next, CAGE CLAMP® grew into the POWER CAGE CLAMP® for high-current applications and the FIT CLAMP, which eliminates the need to remove conductor insulation for termination.
As the pioneer and world leader in Spring Pressure Connection Technology, WAGO has the right connector for the job.
Anyone Making Technology Safer Must Make it Easier to Use
WAGO continually questions existing products, and WAGO continually finds innovative solutions. Take terminal blocks for example. WAGO took lessons learned from Spring Pressure Connection Technology and instilled three major changes in terminal blocks, making them safer and more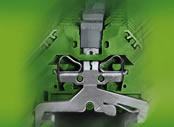 efficient:
Implementation of CAGE CLAMP® (DBP 2706482) — Fast, easy and maintenance-free termination of conductors in just seconds. No torque specs to meet; no specialty tools and training required.
A new, single-piece pluggable commoning system (DBP 2736664) — 1 piece design reduces install from 5 steps to one.
Ground contact with the carrier rail (GM 77123312) — Contact is made by simply installing a module, eliminating time-consuming screws.
"Innovative Connections" is at the heart of everything WAGO does and drives their commitment to industry.
Automating the Future Requires an Open Architecture and Flexibility
Automation without Innovation?
WAGO noticed that early automation systems in the '90s saddled users with high costs and no flexibility.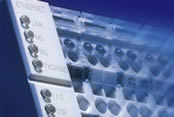 No, Automation with Inspiration
In 1995, WAGO launched the WAGO-I/O-SYSTEM — the first modular, fieldbus-independent I/O system. Rather than tie users to a specific fieldbus, users could select from 16+ protocols, dramatically simplifying their applications. Users were no longer forced work around modules with large numbers of channels, because inputs and outputs were combined in a bi-modular design. This enabled the flexible configuration of the input and output process images, laying the foundations for further innovations.
Fifteen years later, the WAGO-I/O-SYSTEM features 300+ digital, specialty and analog modules, and a few new technological breakthroughs. This includes Bluetooth® RF-Transceivers and the machine-mount, IP67-Grade SPEEDWAY 767 I/O-SYSTEM.
Supplier Directory Categories
WAGO is listed in these categories: