About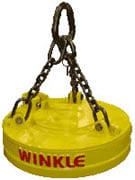 Since 1949, Winkle Industries has been a trusted and leading supplier of "below-the-hook" lifting devices, mechanical and electrical crane products, ground mounted material handling equipment and aftermarket services for various industrial markets worldwide. Winkle is raising customer expectations through diversified capabilities. We provide custom design, re-design, manufacturing, remanufacturing, distribution services and maintenance management programs.

Winkle excels in industry-leading service and quality. We operate as a true "single source" supplier, allowing our customers to focus on core activities and competencies. Our commitment to achieving the highest level of standards enables us to provide products and services that enhance safety, reliability and profitability. Winkle strives for continuous improvement utilizing sound engineering, manufacturing and quality control principles that solve the most challenging manufacturing problems encountered by our customers.

Winkle personnel are equipped with the best tools in the industry. Our engineering and manufacturing excellence is driven by our continuous investment in state-of-the-art technologies that are utilized for creative, cost-effective and accurate solutions. Our focus on "end-to-end productivity" is more than a commitment to progressive service for our customers; it's also a commitment to continuous innovation in our own systems and procedures.
Supplier Directory Categories
Winkle Industries is listed in these categories: