About
The Company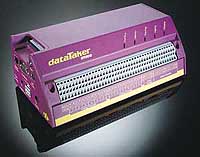 Since its inception in 1983, dataTaker has successfully built a business on the basis of providing quality products to a broad range of satisfied customers in various industries.

With over 20 years of successful operation, dataTaker has become a leading provider of data logging, recording and data acquisition systems to a worldwide market. The dataTaker product range has become synonymous with data logging systems used in local, remote and standalone applications. In the early 1990's dataTaker embarked on an ambitious expansion program of "World Wide Presence" enabling the company to be in the position it is today.

dataTaker supplies its quality range of products to over 55 countries through a well established and experienced dealer and reseller network, supported by regional offices located in the USA, UK and Australia. All appointed dataTaker distributors are thoroughly trained in its product range to ensure they provide maximum support to its customer.

Mission
dataTaker?s mission is to continue to build its market position as a world leader in the design and distribution of data logging, recording and acquisition systems by providing innovative solutions to the Industrial, Environmental and Research Markets.

Vision
dataTaker?s vision is to be a dynamic internationally competitive company, which continues to achieve strong growth through the development of its core capabilities while maintaining high quality products and services. Most importantly dataTaker will maintain its responsiveness to its customers and their needs.

Values
As a company they value:
Teamwork based on communications, a diversity of views, and trust
Continued development of its skills and professional knowledge
Equality and opportunity for all staff
Professional behaviour that includes, respect of others, ethical behaviour and integrity in all its activities
Awareness of the environment
Group Member
dataTaker is a member of the UK based Grant Instruments group. Grant is an independent, privately owned company having established leading market positions in temperature controlled laboratory equipment, data logging systems and environmental monitoring solutions for advanced industrial and research applications.
Supplier Directory Categories
dataTaker is listed in these categories: