Profile Home
About
Precision Humidity measurement for industrial, scientific, and HVAC applications.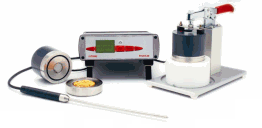 For over three decades ROTRONIC has been developing and manufacturing state of the art humidity measurement instrumentation. ROTRONIC's products are used around the world in diverse industries ranging from pharmaceutical, semiconductor, food, weather stations, paper, industrial process, and building and plant HVAC. Their customers range from a single laboratory with a single instrument to large pharmaceutical facilities with thousands of transmitters to OEM customers using custom designed humidity instruments.
ROTRONIC offers a comprehensive line of humidity instruments, probes, and sensors for the measurement of relative humidity, dew point, water activity, and other humidity parameters. ROTRONIC's unique HygroClip technology firmly establishes ROTRONIC as a leader in the development of cutting edge technology for the measurement of humidity. HygroClip technology includes an ASIC and microprocessor to handle all computations necessary to provide an accurate humidity measurement. Combining the stable digital electronics of the HygroClip with the most stable RH sensor available provides accurate problem free measurements.
| | |
| --- | --- |
| | |
The ROTRONIC product line includes humidity and temperature transmitters for HVAC installations, manufacturing applications and process control. In addition, ROTRONIC offers a line of portable humidity temperature indicators and probes both for general use and for applications such as printing and packaging, humidity temperature data loggers, water activity indicators and probes for quality control of foods, pharmaceuticals and cosmetics, as well as meteorological humidity temperature probes. For special applications, they offer a line of intrinsically safe humidity probes and transmitters.

The prestigious 2009 AHR EXPO Innovation Awards Competition represents the best submissions from the thousands of products on display at the 2009 AHR EXPO. Honorees span the industrial marketplace in a total of nine product categories ranging from the latest developments in Green technology to the newest building automation tools. Rotronic was awarded the winner in the category of Indoor Air Quality with their product the HygroClip2 humidity and temperature probe.
Technical Articles