This presentation provides an overview of syntactic foam technology, with a focus on epoxy systems for oil/gas pipeline insulation. Thermal curatives have a profound effect on performance properties, and this part of the series explains the importance and benefits of dianhydride/monoanhydride blended curatives for epoxies in deep-sea environments.
---
Time:
10 AM EST (7 AM PST)
Presented by: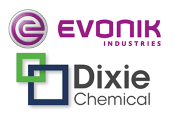 Overview
Evonik Jayhawk Fine Chemicals and Dixie Chemicals, collaborating in the area of thermal curatives for epoxy systems, present an intriguing look at the oil and gas sector, focusing on improving the transport efficiency of reserves from greater depths in more aggressive environments.
Expanding deepwater exploration of these oil and gas reserves requires longer reach-out distances, often beyond 30 miles. Accordingly, extended pipe lengths are exposed to higher subsea temperatures of crude oil, gas and mixtures. The demands of these operations increase the need for more effective insulation to minimize heat transfer while maintaining viscosity and reducing paraffin formation. Wet insulated pipe utilizing syntactic foams is becoming a more important solution to this challenge.
In this introductory presentation, an overview will be provided on the potential of monoanhydride/dianhydride blends as thermal curatives for epoxy-based syntactic foams to address these increasing performance requirements. Glass transition temperature, compressive strength and other relevant properties will be examined.
Key Take-Aways
Learn the fundamentals of syntactic foam technology
Understand the drivers of epoxy formulations and their impact on performance properties of syntactic foams
Find out how blends of dianhydides and monoanhydrides can be used to tailor both heat resistance and compressive strength of epoxy syntactic foams to harsh, deep sea environments
Learn about planned further research including in-service testing and modeling to match formulations with specific end requirements
Speaker

Borys Schafran
, Director, Marketing & Business Development, Evonik Jayhawk Fine Chemicals Corporation
He has product management responsibility for the JAYHAWK Dianhydrides business supporting aerospace, electrical and infrastructure applications. Schafran has over 30 years of specialty chemicals experience and holds B.S. & M.S. degrees in Chemical Engineering from NYU Tandon School of Engineering, Brooklyn, NY. He in in his fourth year as Chair of the NJ Chapter of SAMPE