Attendees of this webinar will learn how to use ST's new VIP-Zero family of highside drivers for switching high load currents in 12V Automotive systems, and how the VIP-Zero devices are helping designers to achieve a load current monitoring with the highest possible precision.
---
Time:
10 AM EST (7 AM PST)
Presented by: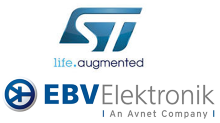 Overview
Highside switches are widely used in Automotive electronics as relay replacement, in order to drive and monitor connected loads. The load monitoring by means of an analog current sense is very common, and the precision of the current sense is determined by various factors, mostly related to design characteristics of the highside switches. There is a high demand to improve the precision of the current sensing, particularly at small load currents, at which a reasonable precision can become difficult to achieve.
The webinar addresses this challenge. First an introduction about the basic structure of STMicroelectronics highside switches is given. Then the working principle of the current sense diagnostic is explained, as well as the various different factors which impact the precision of the current measurement. In order to improve the precision, the webinar shows two helpful techniques of a current sense calibration, which can be performed on each customer application at the end of the production line. Last not least, ST's new VIP-Zero family of low-ohmic highside drivers is introduced, that has been designed to offer an outstanding intrinsic current sense precision, helping designers to cope with the most demanding requirements for load current monitoring in 12V Automotive applications like power distribution, glow plugs, heater, et cetera.
Key Take-Aways
Understand the basic structure of an Automotive highside driver and the built-in diagnostic features
Understand how to measure the highside driver's output current with the analog current sense
Learn about the factors, that impact the precision of the current sensing, on device level and inside the target application
Learn about two calibration techniques, that can be used to improve the precision of the current sensing
Find out how the VIP-Zero highside drivers are helping designers to achieve a best-in-class current sensing precision
Speaker

Michael Luett
, Senior Technical Marketing Advisor, STMicroelectronics'
Michael Luett is a senior technical marketing advisor with almost 20 years experience in Automotive electronics. In the last five years, Michael has trained sales- and application-engineers on STMicroelectronics' automotive product portfolio, and he provided application support on the usage of smart integrated power switches to customers, distributors and car manufacturers.