Register to learn guidance on the critical specifications or parameters that should be considered when developing or designing in a power distribution module.
---
Originally presented:
October 14, 2020
Presented by: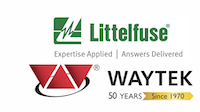 Overview
Power distribution modules (PDM) at times are complex, multi-device circuit control and protection center that are centrally located in an application to provide safety, protection and ease of serviceability. PDMs centralize these functions and make maintenance easier by combining all the functions in a single accessible location.
Since PDM's can be complex, Littelfuse (on behalf of Waytek) would like to explain the key parameters and specifications that should be considered when developing or designing in a PDM.
Attendees will learn about defining a PDM, why they are important and what we consider are the most crucial requirements that should be considered when looking for a PDM. We will also offer recommendations on the rating and type of components used in a PDM. Application-specific requirements that affect the location and sizing of PDMs will be reviewed.
Selection of a PDM also requires an analysis of input/output requirements including wire routing, sizing and connection types to support the application. We will discuss the electrification of vehicles and how higher voltage requirements are affecting the basics of PDM design and selection.
Key Takeaways
Gain improved knowledge of the value-add that PDM's provide to application reliability and maintainability
Get a general understanding of PDM's and available components
Define key parameters required prior to selecting or designing a PDM
Learn what a PDM is, and what configuration options are available
Discover the importance of finding a trusted and knowledgeable partner
Speakers
Geoff Schwartz
, Business Development/Technical Marketing Manager, Americas, Littelfuse, Inc.
Geoff has 28 years of experience, developing and supporting electrical and electronic systems for commercial vehicles. Recent concentration has been on BEV, HEV and FCEV powered commercial vehicles. He is a member of the SAE Truck and Bus Electrical Committee and holds 8 U.S. and global patents. Geoff is business development/technical marketing manager - Americas​ at Littelfuse.

Joe Plazyk
, Global Product Manager, Littelfuse, Inc.
Joe has been an automotive professional since 2003, moving his way from fleet maintenance management to new product development. For the last three years he has been focused on developing power distribution modules and Fuse Holders for commercial vehicle applications. Joe is the global product manager for power distribution modules and fuse holders at Littelfuse.

Rob Iversrud
, Category & Product Manager, Waytek
Since, 2012 Rob has been with Waytek transitioning from sales account manager to his current role as category and product manager. For the last three years he has been developing a focused approach engaging key suppliers to maximize potential growth by finding clever solutions to complex problems in a variety of different realms.