This webinar addresses the hardware and system designers of motor drive systems based on the sensorless field oriented control (FOC) mechanism. Infineon's broad portfolio of dedicated motor control ICs and high-voltage intelligent power modules (IPMs) offers full system solution for this very popular, yet very challenging to design motor control scheme, used in multitude of applications from multicopters and home appliances to industrial automation.
---
Time:
10 AM EDT (7 AM PDT)
Presented by: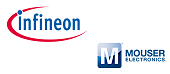 Overview
Motor control application designers are under pressure today from the markets, competitors and regulators to optimize the performance and efficiency of their systems, while keeping the costs of the electronics systems at a minimum. Applications ranging from pumps, fans and compressors in home appliances to drones and e-bikes require sophisticated control systems able to respond reliably to dynamic loads and rapid changes in motor speed while keeping the efficiency at the highest possible level. At the same time they must meet other application requirements, such as, for example, low acoustic noise or power factor correction (PFC) control. All these challenges need to be addressed and at the same time meet the tough deadlines in order not to miss the market window.
To help designers master these challenges and relieve the burden of complex software and hardware design, Infineon's broad portfolio is offering full solution for these types of systems, based on iMOTION™ motion control ICs and CIPOS™ Intelligent Power Modules (IPM). This webinar will present Infineon's solution to complex and compact FOC systems designs.
It will start off with high-level system design description, followed by an overview of the iMOTION motor control IC portfolio and its target application, with some insights into next generation iMOTION 2.0 devices.
After that, PFC related CIPOS™ IPMs will be presented focusing on benefits from product and how to use it from the hardware design point of view. This will be useful to system designers.
Finally, the newly released iMOTION™ Modular Application Development Kit (MADK) platform will be showcased as a scalable platform for rapid development, enabling customers to mix-and-match different controller and power board options to best meet their application needs.
Key Take-Aways
Learn about typical variable speed drives and their main components
See an overview of iMOTION controller portfolio and target applications
Understand IPM solution for PFC and how to design the hardware
Discover the iMOTION MADK Development Platform
Speakers

Ivan Dobes
, Senior Product Marketing Manager, iMOTION
Ivan Dobes holds a master's degree in Electrical Engineering and an MBA in Marketing, and has 18 years of experience in bringing new semiconductor technologies to the market in different roles. In his current role he is responsible for defining and bringing to the market the next generation of integrated iMOTION Motor Control ICs. Some of his previous roles include Product Marketing and Applications Marketing Manager at Infineon, as well as EMEA Regional Marketing role at Texas Instruments.