Register to learn about the challenges when selecting the best epoxy for electric vehicles' unique applications.
---
Originally presented:
December 8, 2020
Presented by: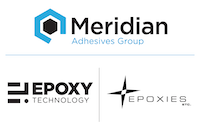 Overview
This presentation illustrates the challenges when selecting the best epoxy for electric vehicles' ("EV") unique applications. Since electric motors generate extreme heat at high current flow, thermally conductive, dielectric epoxy is crucial in the selection process. Raw material fillers, which enable conductive epoxy, will be discussed, as well as the test methods used to quantify their heat transfer. BULK thermal conductivity testing is compared and contrasted versus thin bond-line, triple-layer thermal resistance measurements.
When selecting epoxy for EV applications, regulatory compliance is commonly required. Many circuits and components mandate flame-resistant formulations per UL 94-VO. However, traditional flame retardant raw materials are banned and restricted through regulations such as ROHS and REACH.
Being a highly filled compound, the ideal thermal epoxy is compatible with mixers and agitators, metering pumps, and dispensers. In the selection process, the user-friendliness of the epoxy during industrial automation processes must be considered first. Epoxy properties like mix ratio, viscosity, thixotropy, particle size and cure will be illustrated.
Finally, reliability requirements are essential in the overall selection process. In addition to the high standards of automotive field conditions, EV applications are hostile, due to the chemicals and solvents inside batteries. Predicting reliability concludes the presentation.
Key Takeaways
Understand thermal management concepts such as fillers, test methods, and sensitivity to cure
Discover how to select the best epoxy based on handling, regulatory and field conditions
Overcome pitfalls such as voiding and superthermic reactions
Predict lifetime and reliability via mechanical properties for FEA
Speakers

Al Desisto
, Director of Technical Sales, Epoxies, Etc.
Al has been formulating, selling and providing technical and applications support for UV cure resins, epoxies, urethanes and silicones for almost 40 years. He has a B.S. in plastics engineering from the University of Lowell.

Michael Hodgin
, Strategic Applications Director, Epoxy Technology
Michael joined Epoxy Technology in 1994 after receiving his bachelor's degree in Chemistry from Hamilton College. In the Applications department, he formulated customized products working alongside customers. Additionally, he was Technical Services Manager, Military Test, and Calibrations Officer. Currently, as Strategic Applications Director, Michael focuses on photovoltaic, medical and sensor device applications. He has authored several papers on thermal management, optoelectronics, and semiconductor wafer passivation while presenting his work at numerous trade conferences such as iMAPS, SMTA, NEPCON and SEMICON.