Join this webinar to discover application examples, live measurements and useful tips about laser profile scanner technology.
---
Originally presented:
November 5, 2020
Presented by:

Overview
Laser line triangulation scanners (also known as profile sensors) can be used in a variety of applications. To achieve a high level of precision, basic understanding of the technology is necessary. Which materials are suited, what about the intensity of reflection, and what is the difference between red laser and blue laser technology? And, of course, in which measurement applications do laser scanners provide additional value?
This webinar provides an overview of Micro-Epsilon laser scanners and more importantly highlight some of the ways these scanners are used and integrated by Micro-Epsilon's customers.
Attendees will learn about key features and benefits, and shed light on the integration possibilities. You will learn the technology basics and understand the powerful software features for 2D and even 3D measurements.
Key Takeaways
Learn the fundamentals and basics of laser line triangulation
Understand how to achieve high accuracy in industrial applications
Explore industrials applications with laser scanners
Learn how innovative technologies - such as blue laser sensors - can be used for your measurement application
Benefit from expert tips with easy-to-understand illustrations
Speaker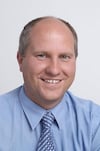 Glenn Wedgbrow
, Business Development Manager, Micro-Epsilon
Glenn Wedgbrow is business development manager for Micro-Epsilon UK. Glenn has more than 17 years of experience in high precision measurement and sensors. His focus has been on non-contact measuring technologies such as eddy current, capacitive and laser sensors.
With a background in engineering and sensor technology, Glenn has been educating and supporting customers in all industries to solve challenging measurement applications.