The challenge of Wi-Fi/Bluetooth integration and certification just got a whole lot easier. Join this webinar to find out how Murata and NXP have collaborated with Embedded Artists to simplify the process. You will learn about a new fully validated modular platform that offers a full range of Wi-Fi solutions with a variety of NXP i.MX evaluation kits that enable connectivity for the next generation of IoT applications.
---
Originally presented:
December 9, 2019
Presented by: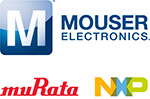 Overview
You need optimized wireless solutions for increasingly complex IoT applications, but are also under pressure to reduce time-to-market and associated engineering costs. In this webinar, you will find out how easy it now is to achieve both.
Murata and NXP will outline how their collaboration has resulted in a modular 'plug&play' connectivity platform that allows you to easily evaluate and integrate Murata's best-of-breed wireless modules - with pre-validated antennas - into your NXP i.MX systems.
You will see how the system plugs together to produce a variety of solutions for a wide range of i.MX6, 7, 8 and RT options. System elements that will be explained include:
A range of M.2 boards featuring optimized wireless module solutions.
Adaptors for SD and microSD connection to i.MX6/7/8/RT evaluation boards.
A maximum-flexibility Murata/NXP option developed in association with Embedded Artists.
Software, documentation and online technical support.
Use-case examples will explain:
How the i.MX RT platform can smoothly bridge the gap between the performance of Applications Processors, and the flexible usability of microcontrollers (MCUs) without increasing costs or power consumption.
Technologies from Murata and NXP that support next generation IoT devices, with AI capability and voice recognition functionality.
Speakers

Scott Kerr
, Senior Business Development Manager, Murata Americas
Scott Kerr has over 30 years of engineering experience in wireless hardware and software design. He has paved the way for IoT connectivity for a variety of software & field applications, while developing strategic partnerships with IC makers such as NXP. His primary area of expertise is low-power embedded WLAN/Bluetooth solutions targeted at IoT space, with an extensive background in embedded wireless implementation, technology, and standards.
Mario Centeno
, Global Product Manager, Semiconductors, NXP Semiconductors
Mario Centeno is the marketing manager for the Low Power i.MX team, which includes the popular i.MX RT series and i.MX Ultra Low Power series. Prior to this role, he served as part of the Microcontroller Strategy team and has a MBA from the Johnson Business school at Cornell.

Nick Sargologos
, Global Manager, Wi-Fi Solutions & Strategy, NXP Semiconductors
Nick Sargologos is a high technology marketing manager with over 14 years'` experience in the PC OEM, broadband communications and consumer electronics industries. He has experience in both startup and growth organizations, with a proven track record of success in silicon, consumer products and infrastructure/services markets at F100 companies.