Register to learn how to save at least six months of development time using the Health Sensor Platform 3.0 (HSP 3.0).
---
Originally presented:
November 25, 2020
Presented by: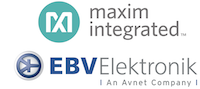 Overview
This presentation will introduce a new healthcare platform, Health Sensor Platform 3.0 (HSP 3.0), a wrist-worn wearable than can save at least six months of development time. Also known as MAXREFDES104#, this ready-to-wear wrist form factor reference design monitors blood oxygen saturation (SpO2), electrocardiogram (ECG), heart rate (HR), body temperature and motion.
Included algorithms provide HR, heart-rate variability (HRV), respiration rate (RR), SpO2 , body temperature, sleep quality and stress level information at clinical-grade levels. It allows wearable designers to start collecting data immediately, saving at least six months over building these devices from scratch. Designed for wrist-based form factors, HSP 3.0 can be adapted for other dry electrode form factors such as chest patches and smart rings.
Key Takeaways
Discover all five HSP's sensor, microcontroller, power management and algorithm components
Learn how HSP's reference platform speeds up product development
Understand how body vital sign measurements for wearables can now make clinical grade measurements
Understand how body vital signs like ECG, Sp02 and temperature are measured on the wrist
Speaker

Andrew Burt
, Executive Business Manager, I&H - Advanced Sensor Products, Maxim Integrated
Andrew Burt is an executive business manager at Maxim Integrated, where he focuses on business development for the company's healthcare sensors, optical modules and algorithms and also helps define new sensors that will be part of future wellness and disease management solutions. He attended Oxford Brookes University, where he studied electrical and electronic engineering.