In Part 1 of 5 attendees will get a comprehensive review of the STM32H7 family, including the dual core family, single core family, value line and latest introductions that bring even more performance and security.
---
Time:
10 AM EST (7 AM PST /
4:00 PM CET)
Presented by: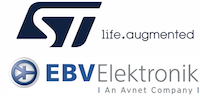 Overview
The Arm® Cortex®-M7-based STM32H7 MCU series leverages ST's Non-Volatile-Memory (NVM) technology to reach the industry's highest benchmark scores for Cortex-M-based microcontrollers with up to 1327 DMIPS/ 3224 CoreMark executing from embedded Flash memory
Dual-core lines: Arm® Cortex®-M7 and Cortex®-M4 cores can respectively run up to 480 MHz and 240 MHz enabling more processing and application partitioning. Dual-core STM32H7 product lines are available with an embedded SMPS for improved dynamic power efficiency.
Single-core lines: single-core Cortex®-M7 offers either great performance at 550 MHz or a unique combination of performance and power saving at 280 MHz and 34 µA (typ) in STOP mode.
Key Takeaways
Understand the design different challenges that come with the development of high-performance applications.
Gain experience in using the new STM32H7x series, which has been optimized for high-performance applications and integration.
Understand which architecture is the most suitable for a specific end product, in terms of internal and external memories.
Speaker

Marcus Woxulv
, Technical Marketing Manager Engineer, STMicroelectronics
Marcus has been working in the electronics industry for almost 17 years, starting in semiconductor distribution and then moving to industrial semiconductor manufacturing and so called mass market applications. He has been working as field application engineer for more than 10 years supporting, different MCU suppliers in the Nordic region, and today works in a product/technical marketing role. Marcus has been at STMicroelectronics for almost six years.