In Part 2 of 5 attendees will learn that STM32Wx solutions are compatible with multiple protocols, from point-to-point and mesh, to wide-area networks with outstanding low-current consumptions and built-in security features. STM32Wx wireless MCUs feature a two-in-one, dual-core architecture built around an MCU and a radio transceiver, in one deeply integrated and highly cost-efficient system-on-chip. STM32Wx solutions are thus a perfect match between real-time or highly power-efficient applications.
---
Time:
10 AM EST (7 AM PST /
4:00 PM CET)
Presented by: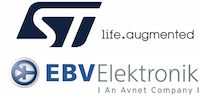 Overview
The STM32WB series supports Bluetooth® LE 5.2 and IEEE 802.15.4 communication protocols, Zigbee® and Thread, running either individually or concurrently. With a wide and easy-to-use ecosystem, the STM32WB series offers certified, free-of-charge radio stacks. To ensure device integrity, the STM32WB's security features enable end-device trustability and anti-cloning features. 
In order to reduce time to market and match the requirements of different levels of integration, from cost-effective PCB to high integration, the STM32WB series includes STM32WB microcontrollers, available in different packages (from UQFN48 to UFBGA129), as well as a ready-to-use module.
The STM32WL MCU series is the world's first LoRa®-enabled System-on-Chip.  
The STM32WL is fully open and supports multi-modulation, making it the ideal choice for LPWAN (Low-Power Wide Area Networks) and IoT developments with outstanding ultra-low power consumption without compromising on performance.  
Key Takeaways
Learn about the industry-leading technology modulations supported in the STM32WL, which include LoRa, Sigfox, FSK, MSK.
Discover the benefits of using the STM32WB SoC for a Bluetooth mesh network.
Determine the ecosystem advantages of the STM32WB/WL including wireless communication stacks supported today, debugging tools and the value-added features offered by ST.
Speaker

Marcus Woxulv
, Technical Marketing Manager Engineer, STMicroelectronics
Marcus has been working in the electronics industry for almost 17 years, starting in semiconductor distribution and then moving to industrial semiconductor manufacturing and so called mass market applications. He has been working as field application engineer for more than 10 years supporting, different MCU suppliers in the Nordic region, and today works in a product/technical marketing role. Marcus has been at STMicroelectronics for almost six years.