In Part 3 of 5 attendees will learn about building on the Cortex-M33, which boosts protection for small devices by integrating Arm's TrustZone® hardware-based security, ST's STM32L5-series MCUs add further security enhancements, including flexible software isolation, secure boot, key storage, and hardware cryptographic accelerators.
---
Time:
9 AM EST (6 AM PST /
3:00 PM CET)
Presented by: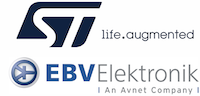 Overview
The STM32L5 microcontroller series provide optimal balance between performance, power and security. The STM32L5 MCU series harnesses the security features of the Arm Cortex-M33 processor and its TrustZone for Armv8-M combined with ST security implementation. ST-proprietary ultra-low-power technologies create a class-leading MCU for energy-conscious applications such as Internet of things (IoT), medical, industrial and consumer.
Offering up to 512 Kbytes of flash (dual bank) memory and 256 Kbytes of SRAM, the STM32L5 series of microcontrollers reaches an upgraded level of performance (443 CoreMark) thanks to this new core and a new ST ART Accelerator™ (supporting now also external memory).
The STM32L5 offers a large portfolio with 7 packages (from 48 to 144 pins) and supports up to 125°C ambient temperature.
Key Takeaways
Learn about the STM32L5 architecture
Understand the technical features that address the requirements of ultra-low power applications.
Appreciate the updated security features of this new STM32 device family
Speaker

Marcus Woxulv
, Technical Marketing Manager Engineer, STMicroelectronics
Marcus has been working in the electronics industry for almost 17 years, starting in semiconductor distribution and then moving to industrial semiconductor manufacturing and so called mass market applications. He has been working as field application engineer for more than 10 years supporting, different MCU suppliers in the Nordic region, and today works in a product/technical marketing role. Marcus has been at STMicroelectronics for almost six years.