Join us for session 3 of 4 in Richardson RFPD's "Walk Around the Block" 20 minute webinar series, Leveraging the Benefits of Supercapacitors in Cycling, Power Backup, and Pulse Power Applications.
---
Time:
2 PM EDT (11 AM PDT /
7:00 PM CET)
Presented by: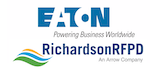 Overview
Critical to operation of these systems are the warehouse robots, such as automated guided vehicles (AGVs) and automated storage and retrieval systems (ASRSs). The requirements of these robots pose a challenge to the power system, with many high power charge/discharge cycles, weight limits and broad temperature ranges.
Eaton supercapacitors are meeting these challenges. With a broad range of cells and modules, designs can be optimized for size, weight and space. Eaton supercapacitors provide a unique fit to many high cycling applications. They can charge and discharge millions of times at high power. With no moving parts and no chemical reactions, supercapacitors address power and environmental requirements better than batteries. They are also reliable in a tough environments, with a service temperature range between -40° to 85° C, and reliability despite mechanical vibrations.
The presentation will discuss:
Application requirements
Capabilities of Eaton supercapacitors
Compare supercapacitors to batteries
Estimate sizing of a supercapacitor system and other considerations
Key Takeaways
See how Eaton supercapacitors are revolutionizing warehouse automation systems
Learn about the supercapacitor technologies that supply of millions of charge/discharge cycles and wide operating temperature range
Discover how Eaton's broad product line of supercapacitor cells and modules provide flexibility
Speaker

Jason Lee
, Global Product Manager - Supercapacitors, Eaton
Lee is global product manager of the electronics division at Eaton, and is responsible for leading its supercapacitor products. Prior to joining Eaton, he held leadership positions in energy storage, power systems and semiconductor companies. Lee has been at the forefront of the supercapacitor market. He holds a bachelor's degree in chemical engineering from the University of California and an MBA from the Kellogg Graduate School of Management at Northwestern University.