In Part 4 of 5 attendees will see that STM32G0 is our newest family of mainstream microcontrollers (MCU) for cost-oriented consumer and industrial applications. This new generation offers a Cortex-M0+ core at 64 MHz as well as a robust architecture with a securable memory area, more RAM and Flash, numerous I/Os, and a more extensive integration of components to significantly simplify the overall PCB design.
---
Time:
10 AM EST (7 AM PST /
4:00 PM CET)
Presented by: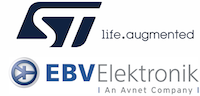 Overview
The presentation will introduce the new STM32G0 Series. This is not simply another Arm®Cortex®-M0+ microcontroller - it sets a new definition of what an efficient microcontroller must offer. This is all about best optimization, down to each and every detail, to offer the best value for your money and allow you to achieve your goals with the minimum BOM cost and the maximum flexibility for upgrades.
STM32G0x1 devices are the answer for higher performance in analog, low-power operations, or more control in secure transactions, such as IoT applications, home-entertainment products, appliances and industrial equipment. It supports a higher temperature range, up to 125° C, and a wide set of package types such as WLCSP, UFBGA, TSSOP, QFP and QFN packages. The STM32G0x0 Value Line comes with a very accurate internal clock (making an external oscillator useless), a full set of performing peripherals, such as faster 12-bit ADC, advanced and flexible timers, calendar RTC and communication peripherals, such as the I²C, USART and SPI.
Key Takeaways
Gather info about ST's portfolio
Compare the upgraded STM32G0 to the STM32F0 series
Discover the new and improved security features
Determine STM32G0 pinout compatibility
Speaker

Marcus Woxulv
, Technical Marketing Manager Engineer, STMicroelectronics
Marcus has been working in the electronics industry for almost 17 years, starting in semiconductor distribution and then moving to industrial semiconductor manufacturing and so called mass market applications. He has been working as field application engineer for more than 10 years supporting, different MCU suppliers in the Nordic region, and today works in a product/technical marketing role. Marcus has been at STMicroelectronics for almost six years.