Controlling servos, managing power requirements and ensuring fail-safe operation can be challenging, especially as efficiency demands increase. Dealing with overload and short-circuit conditions is also a must. In this webinar, we will learn how Infineon's CoolSiC™ MOSFETs support the transition to more efficient servo drives and how EiceDRIVER™ gate drivers ensure proper protection.
---
Originally presented:
March 10, 2022
Presented by: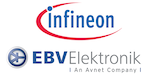 Overview
As CO2 reduction and increased efficiency become standardized in the industrial, consumer and automotive sectors, smart, electrically controlled and efficient motor drives are phasing out mechanical motor controllers.
Servo drives come handy in a lot of applications, but controlling them and the power needed to drive them can be challenging when attempting to do it efficiently. Similarly, handling overload and short-circuit conditions is critical.
The drives market has become more focused on motor integrated drives. This reduces the expensive shielded motor cables and relaxing the switching speed requirements. Alongside the well-established IGBT technologies, Infineon offers SiC MOSFETs, a technology that enables better motor integration of the inverter. This is made possible due to enhanced material properties, which offer lower switching losses and excellent low conduction losses in light load applications.
This webinar shows how Infineon's CoolSiC™ MOSFETs and EiceDRIVER™ gate drivers address these challenges.
Initially we will compare the performance and operation of IGBTs and SiC MOSFETs used in servo drives. Afterwards we will discuss the challenges of driving and protecting SiC MOSFETs and how to address them with the EiceDRIVER™ gate driver. We will examine some of the pitfalls of driving SiC MOSFETs and what solution are there to address them. Lastly, as SiC MOSFETs have reduced short-circuit withstand time capabilities, we will demonstrate best practices of protecting them and how to ensure the protection is reliable, robust and sufficiently fast for all operations. We will also give an exciting overview of suitable boards for evaluation and show the comprehensive Infineon portfolio of SiC MOSFETs and gate driver solutions.
Key Takeaways
Understand how Infineon responds to the trends in the industry drives market: e.g. inverter integration with SiC MOSFETs and get an overview of some of the solutions offered
Learn how to enable lower switching losses compare to IGBTs at same dV/dt levels and enhanced switching control
-Explore how to avoid the main pitfalls when driving SiC MOSFETs
-Discover how to reliably protect SiC MOSFETs using EiceDRIVER™ gate drivers
Speakers

Lara Berghoff
, Application Management Industrial Drives & Commercial HVAC, Infineon Technologies AG
Lara Berghoff is responsible for the definition of the market strategy, management of go-to-market activities and Infineon's offering on application level. Berghoff holds a bachelor's degree in international management and a master's degree in industrial engineering.

Emanuel-Petre Eni
, Application Engineer Gate Driver, Infineon Technologies AG
Emanuel-Petre Eni got his master's degree in power electronics in 2013 from Aalborg University in Denmark, and afterwards his Ph. D in power electronics. His research activities have been focused on wide bandgap devices, their characterization and degradation mechanism during short circuit. He has been with Infineon since 2016, and for the past three years he has worked as an application engineer for industrial gate driver ICs, where he is responsible for the definition of galvanically isolated products, customer support and new product introduction.

Karl Lehnhoff
, Segment Director, Industrial, Scientific & Medical, EBV Elektronik
Karl Lehnhoff joined EBV Elektronik in 2008 as a regional application manager. From 2011 till 2019 he headed the renewable energies segment, today called city and infrastructure, as a director. He has served in his current role since March 2019. Previously he held multiple different roles in R&D, field application engineering and field sales. He has a degree as Dipl.-Ing. (FH) in electronics from University of Applied Sciences in Dortmund.