Omron's goal is convenience, comfort and safety. This presentation demonstrates a solid portfolio of superior electronic component solutions for transportation applications, and is brought to you in partnership with the Power & Signal Group. The presentation will include an overview and demonstration of Omron's relays and switches that meet the reliability requirements of the transportation market and that are also designed to be environmentally friendly.
---
Time:
11 AM EDT (8 AM PDT)
Presented by:

Overview
This presentation will introduce Omron's DC power relays, automotive relays and switches. DC power relays are a new range of products developed for applications such as clean-energy vehicles and storage batteries for homes. The products were developed in response to the rapidly growing trend in many different fields to use renewable energy and to reduce CO2 emissions. This presentation will also provide insight on typical applications and usage of switches and relays in transportation applications. Details of innovative solutions and customization of products to meet specific application requirements will also be covered.
Key Take-Aways
Get the latest information on switch and relay products available for the transportation industry.
Learn about the latest technologies for high-power DC relays.
Gain insight into typical applications and usage of transportation switches and relays
Find out how Omron can customize switches relays to meet specific needs
Speaker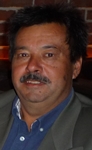 Mr. Robert Seubert
, Product Manager, Automotive Components, Omron Electronic Components LLC
Robert Seubert has been with Omron for 17 years. His knowledge of applications and design requirements for switches and relays in the transportation industry has been key to the successful launches of numerous automotive and transportation programs at leading top-tiersuppliers and OEMs. His specialty is tailoring products and specifications to meet each customer's needs and benchmarking products. He works with Omron's global network of R&D and manufacturing centers to make sure Omron has the highest quality products required by the transportation industry.