Join Rutronik and Infineon to explore applications and technology trends driving Bluetooth® Low Energy (LE) adoption in the IoT market, and discover how the newly-launched Rutronik Development Kit RDK3, based on Infineon's PSoC™ 64 secured microcontroller with integrated Bluetooth® LE radio, can help shorten your development time.
---
Time:
9 AM EDT (6 AM PDT /
3:00 PM CEST)
Presented by: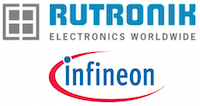 Overview
Are you developing edge-based Bluetooth® Low Energy (BLE) products? Participate in the joint webinar by Infineon and Rutronik to discover the benefits of the Development Kit RDK3 in terms of sensor processing on the edge, integrated security, and reliable BLE connection. The RDK3 offers a perfect platform for developing proof-of-concepts for Bluetooth® connectivity and shortens time-to-market. It is suitable for a variety of IoT applications such as advanced robotics, smart building, smart factory, and smart farming.
Moreover, dive into the advantages of Infineon's PSoC™ 64-BLE which is the centerpiece of the RDK3. Get insights into the device architecture, features and target applications as well as an overview of the ModusToolbox™ software. Thanks to the features of Infineon's MCU, the RDK3 provides main functions to build and authenticate secure applications. Another advantage of the Base Board is that Rutronik System Solutions' software is included in Infineon's ModusToolbox™.
In the webinar, we will showcase the RDK3's features and offerings. Directly learn how to get stated with the Development Kit RDK3 in a demo session.
Key Takeaways
Explore how industry trends are shaping edge-based Bluetooth® LE products and their use in portable medical devices, robotic arms, agriculture automation, and more
Gain an overview of the PSoC™ 64-BLE MCU and its supporting enablement environment
Review the capabilities of the Rutronik Development Kit RDK3 with PSoC™ 64-BLE
Experience a demonstration session based on the Rutronik Development Kit RDK3
Discover how to get started with the PSoC™ 64-BLE using the Rutronik Development Kit RDK3
Speakers

Stephan Menze
, Head of Global Innovation Management, Rutronik
With a Bachelor's degree in industrial engineering and Master's degree in electronic engineering, Stephan Menze worked 4 years as a product manager in the sensors department and gained perfect insight into sensors. He worked at Texas Instruments as technical sales representative responsible for a global key player in the automotive business and now creates and drives technological innovations at Rutronik for customers worldwide.

Vivek Shankar Kannan
, Product Marketing Manager, Infineon Technologies
Vivek Shankar Kannan manages PSoC™ 6 MCU products and is responsible for product definition, go-to-market planning, deployment, and customer engagements. Previously, Kannan worked as an applications engineering lead for microcontrollers, IoT products involved in customer support, hardware/software/solutions definition, and creating technical documentation.