Designers of power converters in the 15 KW to 150 KW range are challenged to improve power efficiency, reduce system size, lower weight, and cut cost. Webinar will highlight a pair of 20KW DC/DC converter blocks utilizing the latest silicon carbide (SiC) MOSFETs and Schottky diodes being used to improve upon all of these attributes. The designs are ideal for EV charger stations and industrial power conversion applications.
---
Time:
11 AM EDT (8 AM PDT /
5:00 PM CEST)
Presented by: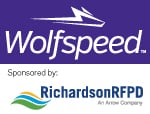 Overview
To improve upon existing systems, silicon device based designs often utilize complicated multi-level topologies to achieve higher frequencies. Silicon super junction MOSFETs provide relatively fast switching and reasonable losses but are limited in blocking voltage. Multi-level topologies overcome the voltage limits but are complicated. In addition, they are limited in their ability to increase efficiency while decreasing system size, weight, and cost.
SiC material enables ultra-efficient MOSFETs and diodes at higher blocking voltages than those achievable in silicon. This presentation will detail how SiC MOSFETs and Schottky diodes enable a simpler two-level resonant full-bridge LLC DC/DC converter with efficiency greater than 98%. A phase shifted version that supports a wider output voltage range will also be shown.
Good for EV charger stations and industrial power conversion applications, the SiC MOSFET based resonant LLC DC/DC converter cuts component count as much as 30% and increases power density by 60%. The 20 KW blocks can be used individually or stacked to make higher power converters.
Key Takeaways
Learn how SiC MOSFETs allow a simpler EV charger with 30% fewer active components than silicon implementations
Understand how a SiC MOSFET based 20 KW resonant DC/DC converter achieves >98% efficiency
Discover a power converter design that increases system power density 60%
Speaker

John Mookken
, Applications Director, Wolfspeed Power Products
John Mookken has been involved in the development and application of power conversion systems for 16 years. He is currently the global application manager for power at Wolfspeed, a Cree Company. Mookken holds a B.S. and M.S. in electrical engineering from the University of South Carolina, and an M.B.A. from the State University of New York.