Can you imagine a power conversion solution offering nearly 100% reliability, space and money savings, and flexibility? We all know combining all these factors together is an impossible dream. Well, the CE+T Power engineers have developed a combination of software and hardware to allow the "virtualization of power."
---
Time:
10 AM EST (7 AM PST)
Presented by: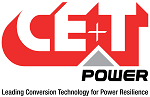 Overview
This new solution, named Power Fusion, has the capability to merge the grid, AC and DC power sources (photovoltaic, wind turbine, hydropower, genset, etc.), batteries, and loads together. Electricity can therefore "flow" from where it's produced to where loads need it.
The secret behind this is the creation of a common BUS that links everything together. Thanks to the CE+T Power power conversion modules and their bidirectionality capabilities (the three ports included in our modules can all convert power both sense) and an intelligent software, this solution came to life.
On the technical side, Power Fusion is based upon a rack scale design to offer best flexibility. The overall power infrastructure, inspired from the microgrid, involves modular power packs located at the head of a row or in-rack, sized for average load consumption. This configuration allows the elimination of most stranded power (when the power distributed in the infrastructure exceed the power consumed by your datacenter during peak utilization) while increasing the resilience of the overall infrastructure.
The Power Fusion concept is a disruptive solution entitled to challenge Tier 4 datacenter topologies.
Key Take-Aways
Discover the datacenter's current topologies advantages and defects, and the limits of current topologies
Understand the importance of stranded power, flexibility and space and how it affects your business
Find out how Power Fusion works and how it can be applied to your datacenter
Learn about CE+T Power solutions and how we became a leader in our field
Speaker

Daniel Rixhon
, Sales & Business Development North America, CE+T Power
Daniel holds an engineering degree in electronic engineering as well has a degree in marketing. He has extensive experience in the areas of business and sales development, from both tactical and strategic levels.
Daniel started his career in the steel and building industries. He later went on to work as consultant for Deloitte & Touch. He then got into Mission Critical applications with CE+T Power, first in the Middle East and then worldwide.
Daniel serves in CE+T America Board of Directors since its incorporation in 2008 and is now Senior Vice President Sales and Business Development for North America.
For the past 30 years Daniel spent all his time to develop new markets, modernize product ranges and envision strategical changes in various industries. He has the ability the understand the full scope of energy conversion and to anticipate new paradigms that will shape our future environment in which new products and infrastructures shall emerge.