Electric vehicle (EV) safety is extremely important, especially when the EV experiences extreme short circuit conditions. A safe EV is dependent on a robust battery pack system with reliable and safe performances. Join this webinar to learn how to correctly select circuit components to avoid failure.
---
Time:
2 PM EDT (11 AM PDT /
8:00 PM CEST)
Presented by: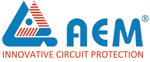 Overview
As electric vehicles (EVs) continue to play a larger role in the future of the automotive industry, circuit protection is becoming more and more vital. When faced with extreme high voltage and high current short circuit conditions, traditional fuse technologies have demonstrated an inadequate level of protection, which under certain circumstances could put passenger safety at risk due to fires or explosions. The safe EV is dependent on a robust battery pack system with reliable and safe performance. This can only be obtained with the circuit protection in design and right selection of proper components, such as fuses with advanced fuse technology.
This presentation highlights some potential concerns and issues associated with these typical options and the importance of ensuring proper fuse selection for these system-critical EV applications. By looking at proper utilization of different fuse technologies in extreme conditions and investigation into the critical system components utilized in EV technology such as battery management systems (BMS), we can determine which fuse technology best protects against catastrophic failure. The presentation also demonstrates how advanced "Wire-in-Air" fuse technology could yield much more consistent and reliable performance, making them a much better choice for these same demanding automotive applications.
Key Takeaways
Understand safety concerns about EV technology
Learn about circuit protection in battery management system (BMS) and interconnection boards (ICB) for automotive application
Understand catastrophic failure
Discover proper fuse selection in design
Learn about advanced "wire-in-air" fuse technology
Speaker

Michael John Roach
, North American & European Sales Manager, AEM Components
Michael Roach has a degree in electrical engineering technology. For 30+ years, he has been directly involved in the sale, design, process and manufacture of electronic components and assemblies utilized in the automotive, commercial, medical, industrial and mil/aero market sectors.