This webinar starts with a brief overview of Maxim's Dynamic Speaker Management (DSM) technology. Then we'll show you two demos: one that highlights the DSM difference and one that shows how to quickly and easily characterize speakers with DSM to improve loudness up to 2.5x and significantly increase bass response.
---
Originally presented:
August 7, 2019
Presented by: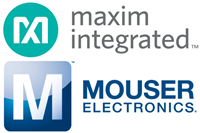 Overview
End users are demanding richer, louder sound from the micro speakers that are being incorporated into more portable devices. Traditionally, driving these speakers harder can increase loudness and bass response, but at the risk of damaging them via overheating and over excursion. For proper speaker protection, the algorithms in the amplifiers that boost the loudness of the audio signals need to know the speaker's characteristics. Speaker characterization has typically involved a time-consuming, complex process.
In this webinar presented by two of Maxim's audio experts, you'll learn how to drive micro speakers beyond their specified maximum power rating to achieve up to 2.5x more loudness and up to two octaves deeper bass compared to using conventional 5V amplifiers. The MAX98390 boosted, digital Class D smart amplifier features Dynamic Speaker Management (DSM) technology to efficiently deliver louder, clearer, richer sound at the lowest quiescent current in the market. After this session, you'll have a deeper understanding of how you can unleash your system's full audio potential by safely driving higher power levels (up to 5.1W) into micro speakers that are generally rated for much lower power (from 1W to 3W).
Key Takeaways
Learn how DSM speaker protection vastly improves audio performance by increasing loudness (SPL) up to 2.5x and by significantly extending the bass response
Understand how DSM excursion and thermal protection allows designers to ignore speaker power rating to safely over drive their speakers (For example, drive 5W into a 1W-rated micro speaker)
Gain insight into how characterizing speakers and setting thermal and excursion limits is faster and easier with the DSM Sound Studio GUI
Please note that by registering for this webinar, your contact information will be shared with the sponsoring company Mouser Electronics, Inc, and Maxim Integrated and you may be contacted by them directly via email or phone for marketing or advertising purposes.
Speakers

Michael Tuason
, Principal Member of the Technical Staff, Maxim Integrated
Michael Tuason is an audio applications engineer at Maxim Integrated. Prior to joining Maxim in 2008, Michael held various audio engineering positions at Monolithic Power Systems, Tripath Technology, and National Semiconductor (now Texas Instruments). He holds a BS in electrical engineering from San Francisco State University.

Greg Mow
, Business Manager, Maxim Integrated
Greg Mow is a business manager in the Mobile Audio Business Unit at Maxim Integrated. Prior to becoming a business manager, Greg worked in multiple field sales roles for Maxim, from supporting large, strategic customers to managing regional distribution sales/customers. Before joining Maxim, he also spent time as an R&D engineer at Calera. He holds a BS in electrical engineering from UC San Diego.