Session 2: Join this webinar to learn how to run AI inference on real edge hardware – the MAX78000.
---
Time:
9 AM EST (6 AM PST /
3:00 PM CET)
Presented by: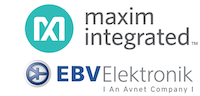 Overview
These sessions are intended to be a practical walk-through of the tools and resources available for the MAX78000 AI accelerator. The goal is to help engineering teams move beyond running demos, to actually proceed step-by-step through a project. Attendees will get both an introduction to the documentation and tools available, as well as a hands-on introduction on using those tools; getting a demo retrained and running on embedded hardware.
Session 1: This webinar presents an introduction to the tools and documentation used in developing applications for the MAX78000. We'll explore the contents of our Github site, provide an overview of the features of the MAX78000, go through the installation of required tools, and introduce the example models and demo applications. This session will end with an overview of training models to run on the MAX78000.
Session 2: A walk through of taking a trained model and getting it to run on the MAX78000. This will include the synthesis step required to convert the model to a form that can execute on the MAX78000, and the handoff to an embedded development. After exploring the embedded development tools and resources, we'll run the demo, and measure the performance (energy and latency). Finally, we'll talk about possible work that could be done to make further improvements.
Key Takeaways
Become familiar with the tools and documentation available for developing embedded AI applications
Learn about the development flow for developing embedded AI application
Discover a resource for getting real hands-on experience with the entire embedded AI workflow through the rebuilding and execution of a demo applications
Speakers

Kristopher Ardis
, Executive Director, Micros - Micros & Security, Maxim Integrated
Kris Ardis is an executive director in the Micros, Security & Software Business Unit at Maxim Integrated. He began his career with Maxim as a software engineer and holds two U.S. patents. In his current role, Ardis is responsible for edge artificial intelligence accelerators, secure and low power microcontrollers and software algorithms. He has a B.S. in computer science from the University of Texas at Austin.

Shawn Brooks
, Applications Engineer, Maxim Integrated
Shawn Brooks has been working for Maxim Integrated as an Applications Engineer and a specialist in embedded system development. He joined Maxim Integrated with 25 years of experience in electronics engineering and firmware development.

Robert Muchsel
, System Architect, Maxim Integrated
Robert Muchsel is the System Architect for Maxim's new Embedded Machine Learning Accelerators. He has been with Maxim Integrated in Dallas, Texas since 2001. With a degree in computer engineering from the Swiss Federal Institute of Technology in Zurich, Switzerland, Robert has worked on countless embedded applications and holds a variety of patents.