Join us for Part 2 of 4 in the Richardson RFPD "A Walk Around the Block" webinar series. This series focuses on energy storage systems - leveraging the components to enable higher performance and lower system costs.
---
Time:
2 PM EST (11 AM PST /
8:00 PM CET)
Presented by: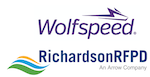 Overview
Wolfspeed Silicon Carbide power devices enable higher performance and lower system cost for energy storage applications.
See how Wolfspeed Silicon Carbide MOSFETs can simplify the power topologies required to meet ever-increasing energy efficiency standards, while shrinking system size, weight, and cost.
Whether you're building a single-phase residential system (5-15 kW) or three-phase commercial system (30-100 kW), Wolfspeed Silicon Carbide solutions are the right choice for system performance and efficiency.
Key Takeaways
Overview of energy storage system (ESS) applications where Silicon Carbide power devices can add higher performance and lower system cost
Common power levels and system topologies
SiC product fit, component choices using Wolfspeed reference designs to demonstrate performance and cost advantages in actual hardware
Summary of efficiency, power density, and system cost advantages from using Wolfspeed Silicon Carbide in Energy Storage/UPS designs
Speaker

Paul Kierstead
, Global Director of Product Marketing, Wolfspeed
Paul Kierstead has more than 30 years of experience in semiconductors, and serves as the Global Director of Power Product Marketing for Wolfspeed. Paul joined Cree | Wolfspeed in 2008 as the Director of Marketing and Applications, and is a key visionary for jump-starting the SiC Power Semiconductor Market. He started his career in engineering and marketing roles at both Fairchild and National Semiconductor.