On-Demand Webinar:
Power Generation & Distribution Equipment
Time:
12 PM EST (9 AM PST)
Overview
Whether your facility is a power plant, production facility, or large commercial complex, chances are you're conducting hundreds of inspections of switchgear, insulators, transformers, arrestors, potheads, motor control centers, and breakers every month.
Lurking behind the closed doors of any of these electrical elements is the potential for dangerous arcing, tracking, corona and PD. UE Systems ultrasound detection technology can help you prevent unplanned outage and virtually eliminate safety risk for your inspection and maintenance personnel.
By sensing the sounds produced by malfunctioning equipment, ultrasound instruments can locate dangerous problems that are common to the harsh environments typical of power, production, and industrial processing facilities.
Key Take-Aways
Learn the basics of Ultrasound analysis
Save energy and avoid accidents with safe and accurate detection and analysis.

Understand how to illustrate ROI on an Ultrasound inspection system by calculating and reporting the costs of catastrophic failure.

Discover how Ultrasound is paired with infrared detection to "hear" what cannot be "seen" by infrared detection.
Speaker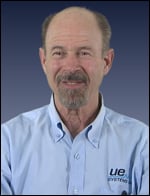 Alan Bandes
, Vice President of Marketing, UE Systems, Inc.
As Vice President of Marketing for UE Systems, Inc., Alan Bandes has lectured around the world about the principles and applications of airborne and structure borne ultrasound technology. He is certified as Level III in airborne/structure borne ultrasound technology and has contributed instructional material for level I and level II courses. Besides serving as an instructor, Bandes has authored numerous articles on the subject, his byline appearing in many technical journals.