On-Demand Webinar:
Defense & Security Technology
Time:
12 PM EDT (9 AM PDT)
Overview
Ethernet technology, which transmits large amounts of data over great distances at reasonable cost, is increasingly seen as the solution for military vision systems design. In particular, there are two key drivers behind the growing adoption of networked systems, only made practical through an Ethernet-based interfacing technology.
The first is the movement to place multiple video input devices on military platforms for a better view of the field of engagement. To enhance understanding of the field of engagement, raw data is massaged to perform specific image enhancements such as target tracking, and highlighting movements that might otherwise be undetected.
The second, and related to the first, is the movement to remove windows from land vehicles. In doing so, the vehicle is better hardened and provides greater protection for the troops within it. Critical for maneuvering and situational awareness without windows is reliable data transmission, with ultra-low jitter and latency.
Ethernet's technical benefits are numerous and include flexible networking capabilities, scalability, high bandwidth, long cable reach, low cost, readily available components, and a standards-based protocol.
Attendees will have the opportunity to explore the above-noted benefits in detail, in the context of a military environment.
Key Take-Aways
Gain an understanding of video-over-Ethernet and the GigE Vision protocol
Compare local situational awareness (LSA) performance requirements against GigE Vision capabilities
Learn about the flexible topology available in GigE Vision systems and walk through an example of a networked video military application example
Hear why military organizations are now migrating to 10 Gigabit Ethernet
Speaker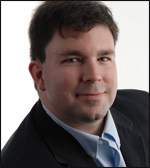 John Phillips
, Senior Product Manager, Pleora Technologies, Inc.
John Phillips is senior product manager with Pleora Technologies, the co-founder of the GigE Vision standard. His work at Pleora focuses on delivering the company's road map and on positioning the company's products and services for use in targeted vertical markets. Prior to joining Pleora, he spent 10 years with March Networks in software development, sales, and product line management. He also guided development of advanced video solutions for the security market and played a key role in the company's becoming a recognized market leader in that vertical. Before that, Mr. Phillips worked with Elcombe Systems and IBM. He holds a BSc in Computer Science from the University of Ottawa.