On-Demand Webinar:
Machine Tools & Metal Working
Time:
3 PM EDT (12 PM PDT)
Overview
Since the Iron Age, metalworkers have used heat and cold in combination to harden and extend the life and usefulness of their products. Deep cryogenic tempering is an extension of those techniques and allows for a significant increase in abrasive wear resistance and durability for many metal-based objects. The typical goals of cryo-processing include increased product life, increased durability, reduced breakage, easier cleaning, and some very specific enhancements that are dependent entirely upon the project. Many changes are dependent upon the type of steel or metal used in a product, in addition to how a product was originally formed or created.
For the metalworking crowd, the catch-phrase is "longer tool life." The cryogenic process described in this presentation is used to treat tooling and knives, saws and endmills, reamers or broaches, as well as drills and dies. Data from case studies will illustrate the results. Primary benefits in addition to longer wear life are dimensional stability, stress relief, and significant gains in cycle fatigue life.
This presentation will demonstrate the deep cryogenic tempering process, and seek to explain the elements of the technology that make this process affordable, effective, and a contributing factor in a company's efforts to "go green" by reducing waste and shrinking carbon footprint. This one-time, irreversible treatment lasts for the life of an object and improves the entire structure, not just the surface, providing significant improvement over other heat-treating or cold-treatment methods.
Key Take-Aways
Learn why deep cryogenic tempering has a profound and measurable effect on all metals
Discover how you can see better results and longer life from all of your tools
Find out why this process can be very rewarding for your business
Speaker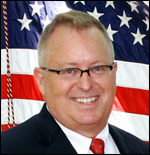 Peter Paulin
, CEO, 300 Below Inc.
A productive entrepreneur and inventor with fluency in both English and Spanish, Peter Paulin flew Learjets for Medevac in the 1990s before founding a worldwide industry in deep cryogenic tempering, a process that makes steel last 300% longer for 15% additional cost. 300 Below currently processes over a million pounds of steel annually, treating equipment for NASA, the Boeing F-22 Raptor, and the $3.2B Cassini Saturn Probe. 300 Below/Cryotech has also treated the head of the Statue of Liberty, and plates for the U.S. Mint. Peter is a 1982 graduate of Embry-Riddle Aeronautical University where he studied aeronautical science, physics, and finance.