On-Demand Webinar:
Automotive & Transportation Technology
Time:
3 PM EDT (12 PM PDT)
Overview
The efficiency and performance of an automotive powertrain is strongly affected by its mass. In racing engines and supercars, traditional materials have been increasingly supplanted by high-performance materials and advanced design - not only to reduce the engine's overall weight, but also its internal friction and stresses. With the mandates for CO2 reduction and the push for corresponding fuel economy increases, this technology is now being transferred to passenger vehicles. One key contributor to the friction of an engine is the mass of its power cell unit (PCU), comprised of the connecting rod, connecting rod bearings, and piston. By reducing the reciprocating and rotating mass of these components, the mechanical efficiency of the engine can be improved and CO2 emissions reduced. Attendees of this presentation will learn how a prototype connecting rod 27% lighter than the original was designed and fully validated without using exotic alloys or sacrificing component longevity.
Key Take-Aways
Understand why component optimization will be necessary for automakers to achieve upcoming fuel economy standards
Learn how a component can be optimized to save mass and cost through intelligent design without sacrificing durability
Review the critical areas of a connecting rod and the loading conditions
Discover the different materials for automotive connecting rods and their associated advantages/disadvantages
Understand how a lighter connecting rod allows for stress reduction and further mass optimization throughout the engine
Speaker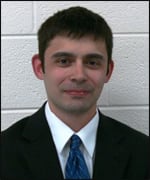 Chris Hall
, Mechanical Engineer, MAHLE Industries, Incorporated
Chris Hall is a manager of R&D projects at MAHLE Industries. His responsibilities involve new and innovative concepts for the automotive powertrain, with special focus on connecting rod product development. Hall graduated from Kettering University in Flint, MI, with a B.S. in Mechanical Engineering.